We recognize that all of our patients are unique and deserve to receive dental care that reflects their individual needs. Our experienced and talented dental team is committed to working with you and your family to create a comfortable, stress-free, and rewarding dental experience every time you visit our practice.
We are pleased to welcome you and your family, and we look forward to working with you.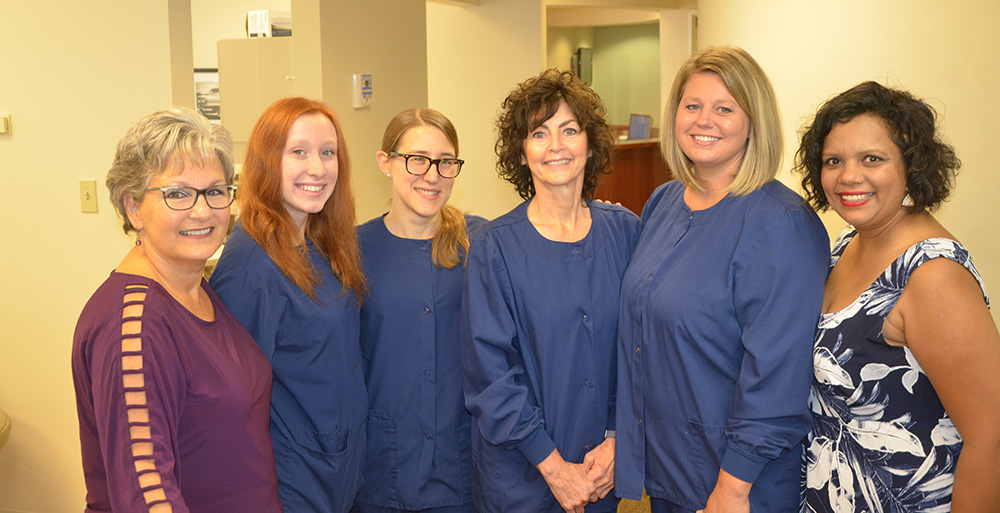 ---

Danielle
Registered Dental Assistant
I graduated from Garfield Heights High School and Cuyahoga Valley Career Center in 2018. I started working with Drs. Whitmyer and Esposito my senior year of high school and stayed ever since! Now, I am completing my education and currently go to Cleveland State University working towards my dental degree. I feel fortunate to say that I love going to work every day and doing the thing that I am most passionate about. I also have an amazing team! I look up to Drs. Whitmyer and Esposito as my mentors as I go through this journey of becoming a dentist myself.
When I'm not in the office, I enjoy playing softball, going shopping, walking my dog Jericho, and hanging out with my boyfriend of two years Frank and my little sister Jessica.
---

Doireann
Registered Dental Hygienist
Doireann graduated from Lakeland Community College with her degree in dental hygiene. She finds it a privilege to take care of her patients, and she loves building relationships with each one of them as she helps them maintain their oral health. During her education, she was named the Outstanding Dental Hygiene Student of her graduating class. Doireann is a member of the Sigma Phi Alpha Dental Hygiene Honor Society and has served as a delegate and as vice president for the Northeastern Ohio Dental Hygienists' Association.

She also is currently a member of the Lakeland Community College dental hygiene advisory committee. In her free time, she enjoys reading and spending time with her family.
---

Maureen
Registered Dental Assistant
I was born and raised in the Greater Cleveland area and have assisted Dr. Esposito for more than 30 years. I particularly enjoy working with all of the patients Dr. Esposito treats and the unique challenges that they present. I find it very rewarding to see patients reach a point where they are comfortable with their smile and feel good about themselves again.
I have been married to my husband Jim for 31 years. We have two grown children, Robert who lives in Dayton, Ohio and Christina who is going to Kent State. We have nine-year-old Labradoodle to keep us company now that the kids are away. I enjoy golfing, bike riding, and walks in summer, and snowmobiling in Michigan in the winter.
---

Stacy
Registered Dental Assistant
I am a Cleveland native and have been a dental assistant for more than 17 years, 14 of which have been in our office. Assisting Dr. Whitmyer is a pleasure because of the amount of patience he has and his understanding of each patient's needs. I love coming to work every day, looking forward to the people I'm going to meet and the friendships that will begin. I also look forward to catching up on the latest news from our established patients' lives.
I have a daughter Mila and a son Matty, along with my dog Sadie. I love swimming, taking my daughter to gymnastics, and riding bikes.
---

Veronica
Front Desk Manager
I have been in the dental field many years and it never gets old. I enjoy working with talented doctors who truly care about the patients under their care. I credit my thankful and optimistic attitude for guiding me through the many happy and healthy years. Working alongside incredible coworkers has played a huge part in my continued happiness and success. The professional standards that our doctors, dental hygienists, dental assistants, and lab tech have are second to none.
On a personal note, I enjoy spending my free time with my husband, children, and grandchildren. I have been truly blessed.
---

Jose
Dental Lab Technician
Jose is a native Buckeye from Findlay, Ohio. He began his career as a lab technician in 1976, the same year he graduated from Midview High School. He has studied at the Las Vegas Institute and completed his Master Ceramist Course in 2000. Jose has been with us in our lab since 2015.